Forum Communications Consortium III Conference System Receives DoD APL / JITC Release 11.2 Approval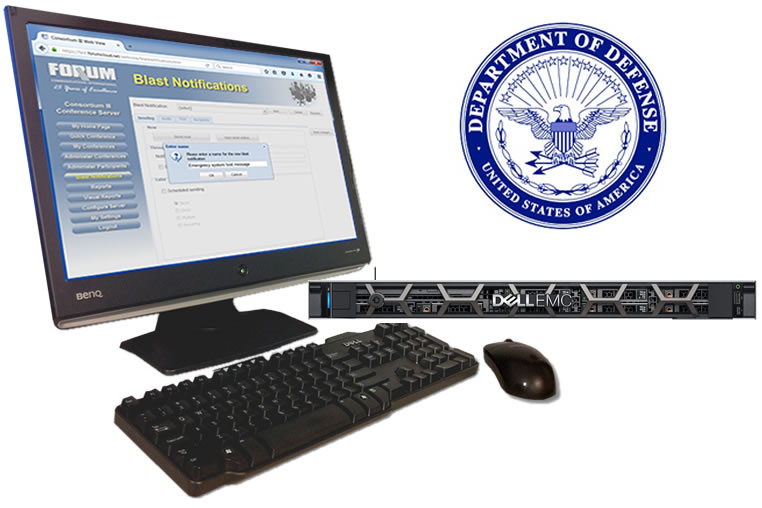 This DTR2 extension continues Forum's commitment to providing secure, flexible and reliable audio conferencing that meets the most stringent DoD requirements, including enhanced capabilities for emergency conferencing and emergency notifications. Greg Ockelmann, Vice President of Sales and Operations, Forum Communications.
RICHARDSON, Texas (PRWEB)
November 10, 2021
Forum Communications today announced that the Consortium III Conference System Version 11.2 has been approved for inclusion in the Department of Defense Information Network (DoDIN) Approved Product List.
The Joint Interoperability Test Command (JITC) has issued the following certification:
DoDIN APL approval from Forum Communications Consortium III Rel. 11.2.0 AMT 1710301 as UCCS has been granted. The Risk Management Executive (RME) recommended the DoDIN APL placement on October 27, 2017 based on cybersecurity (CS) testing performed by the Joint Interoperability Test Command (JITC) Ft. CS Test Teams led by Huachuca. This solution obtained interoperability (IO) certification from JITC on October 19, 2017. This approval is effective as of the date of this memorandum and expires on October 30, 2023, unless a critical issue is identified that invalidates the CS or IO posture. of this product as determined by JITC or CIOs for combat commands, services and agencies. Please note that departments and agencies are required to recertify and re-accredit their systems every three years.
On July 29, 2021, the following extension was approved through DTR # 2 (requested to update software versions on Consortium III as follows: System Under Test Update (SUT) Rel. From 11.1. 1 to 11.2.0; update Community ENTerprise Operating System (CentOS) Linux from version 6.9 to 7.9.2009 (due to end of life status on version CentOS 6.x); update Apache Web from version 2.2 to 2.4.6).
Please refer to the DoDIN APL for the official publication of this solution on the following site: https://aplits.disa.mil/apl.
The system meets the critical requirements of the Unified Capability Requirements, Reference (b), with the optional Multilevel Precedence and Preemption (MLPP) capability, on the Defense Information Systems Network (DISN) as a Unified Audio-Only (AO) Conferencing System (UCCS) capabilities and is certified for joint use without open waivers, conditions or discrepancies.
The Consortium III conferencing system provides real-time audio conferencing capabilities for DoD. The system can support 2000 simultaneous calls on several types of conferences, including Meet Me, Preset and Blast Dial conferences. The conferencing system connects to the DoD through the SS / MFS / LSC WAN over the local network of the services provided using AS-SIP with encrypted signaling (TLS) and media (SRTP). The conference system has a number of enhanced features including advanced scheduling, configurable security levels, internal recording, and programmable preset and speed dial conferences. Consortium III can also play a critical role in DoDIN's emergency preparedness and response capacities. The Blast Notification option allows you to create, manage and distribute emergency messages by phone, cell phone, email or SMS. The Blast Notification option can be delivered as an integrated solution with the Consortium III conference server, or as a stand-alone, stand-alone solution.
The system user interface is provided by WebView, a secure RESTful web services user interface (API) that provides remote system administration and user access to features. It allows the user to create, schedule, edit and monitor conferences and participants using a standard web browser and a site PC through the DoDIN.
The system is certified for deployment in three different configurations:
1. Registered and directly connected to a session controller (SC) as an integrated ASSIP component.

2. As a stand-alone ASSIP appliance, run by an SBC (Session Border Controller) and registered with one of the LSCs listed on the DoDIN APL.

3. Connected to any circuit switch or gateway currently or previously listed on the APL with an ISDN primary rate (PRI) interface.
The JITC Test Certification Extension and IO Certification Letter containing the detailed components and configuration of this product are available at the following site: https://aplits.disa.mil/processAPList.action/Forum_Consortium_III_APL-JITC_11.2.0 _TN1710301_DTR2_07JUL2021
The list of approved products can be found at: https://aplits.disa.mil/apl
About forum communications:
Celebrating 3 decades of service excellence and customer satisfaction, Forum Communications is a leader in the design and deployment of conferencing, collaboration and emergency response solutions. The Forums Consortium III and Alert III conferencing solutions have been the products of choice for military applications (DOD), industry, and businesses of all sizes, from small businesses to Fortune 500 organizations. Forum continues to demonstrate our proven commitment to customers with continuous improvements, innovative feature sets and award-winning product solutions. Forum products are specially designed and designed using the latest technology and user interface design practices. From conferencing to emergency response solutions, Forum continues to deliver.
For more information, call Forum Communications at 972-680-0700 or visit our website at http://www.Forum-com.com.
Contact details

Greg Ockelmann

Vice President of Sales and Operations

Communication Forum

http://www.forum-com.com

(972) 619-8571
Share the article on social media or by email: